Find a fitness regime that suits your goals & transform your body
Unleash your hidden potential and live a healthy life, choose from a wide range of fitness workouts & get trained by certified experts, that will help you achieve your fitness goals.
You don't have to be fit to start, you just have to start. We provide one to one personal training to work on the effective results.
It is not the training which we do but to make you understand the reason why to do some particular set of exercises and the effect of it. Your confidence and understanding will keep you motivated throughout the training and that will only happen when you start understanding the process.
We provide an environment where you'll feel like your own place and the personal trainer would be your gym buddy. We make sure that your Personal Trainer, Rehab Therapist and Nutritionist plan your workout structure in such a way that you'll get progressive results and at the same time all the strategies planned would be on point.
Get healthy and fit with WildFit
This is one of our major services. Workout and Nutrition should absolutely be viewed and dealt with as one—it's not a 'one-sided' coin. By combining proper nutrition with effective exercise program, we yield for better results.
We have a team of renowned and internationally certified Nutrition Researchers who not only work on your body transformation but also on your performance enhancement. We don't provide any trendy diet or anything in fancy, rather our nutrition programs are customized as per your convenience.
We ensure that all the required nutrients you need in your daily diet are fulfilled and even your exercise regimen to ensure that you get what is needed to stay healthy in a sustainable manner.  And with that, it creates a direct impact on your personal and day-to-day life.
BODY COMPOSITION ANALYSIS:
A healthy balance between fat and muscle is vital for health and wellness throughout life. We provide Body Composition analysis as one of our exclusive services.
This measurement provides an insight into both nutritional status and functional capacity of the human body.  Mediana i25 is a body composition analyzer which estimates body composition parameters based on three bioelectrical impedance analysis (BIA).  Scientific evidence shows that a healthy body composition will increase your lifespan, and lead you to a healthy lifestyle.
Unlike bodybuilding, weight training, functional training which emphasizes the pursuit of a particular physique, powerlifting is a sport of attaining as much raw strength as is humanly possible.
Whether you aim to compete in a sport or just want to train for strength, powerlifting training plan is the perfect way to boost your strength. Hence the Individuals who are interested in building strength and  who are preparing for competing at the highest level, with us you can get trained under the supervision of dedicated and experienced Powerlifting Coaches.
If  you've done your "Downward Dog" yoga pose today, you're probably feeling more relaxed. Unlocking Asanas and 'Healing Thy Self' is our morning routine at WILDFIT.  
The Yoga Expert will take you through a individualized plan that will work towards your physical and mental well- being. An addition of Yoga to your daily routine will help you to improve your strength, balance and flexibility, will maintain a good heart rate, better sleep and much more.
We offer training programs for individuals and athletes seeking one-on-one attention to focus on improving specific goals. We as a team work with various athletes of different fields/sports (Football, Cricket, Volley Ball, Wrestling, Tennis etc.)  to improve and polish areas of strength, speed and agility.
The team of trainers had decades of experience working with athletes at all skill levels from young hopefuls to professional all-stars. We care about one thing and one thing only, Commitment.
SPORTS REHABILITATION AND INJURY PREVENTION:
Apart from training and developing a fitness plan that includes cardiovascular exercise, strength training and flexibility, this program helps in decreasing the chances of injury. 
Through Sports Rehabilitation and Injury Prevention Program we provide a safe, therapeutic approach that helps an individual effectively treat pain and achieve optimal performance with targeted exercises to help you return to your basic day to day life.
We offer fun and innovative fitness programs for kids between the ages of 5-15 years that build self-esteem and strong bodies. We have developed our world-class youth fitness and nutrition programs through working with thousands of actual kids walking through our door from around different age zones.
There are various types of child-specific programs that have been developed which are a combination of getting the kids used to an active lifestyle as well as honing some character skills in them. This is done by exposing them to our circuit training, sports conditioning, awesome classes and activities. Our mission for this program is to be a force for good by empowering the youth of today and tomorrow, teaching them the life-longing benefits of staying fit, eating right and living a healthy lifestyle.
In this program we design the training pattern in such a way where your cardio vascular activity, metabolic activity, endurance, brain co-ordination are taken into consideration and works towards the enhancement for it.
So, to work in an effective way, we are able to provide the safest manner possible while delivering great results and creating an ultimate family experience. We keep our group training batches to a 4:1 ratio of clients to coaches.
The activities which we include for the group training are High-Intensity Interval Training (HIIT), Functional Training, Circuit Training, Cardiovascular Exercises, Body Balance training and Zumba. With the help of these training pattern we focus on improvising strength, movement pattern, movement efficiency, better mobility, increases calorie-burn and core stability.
Achieving the fitness results from your home that you want and can feel overwhelming when connected with right experts taking care of the nutrition and exercise. And this is what we provide over here, we bring the workout to you: the nutritionist, the trainer, and a personalized workout to match your goals and your skill level. We are proud to welcome individuals of all fitness levels, regardless of ability, age, and experience.
We track your progress by regularly assessing your Body Composition Analysis (BCA), Nutrition Plan, and goal and restructuring your fitness plan if necessary. We're committed to helping you get fit. We strive to teach our clients lifelong habits so they can continue looking and feeling their best for the rest of their lives.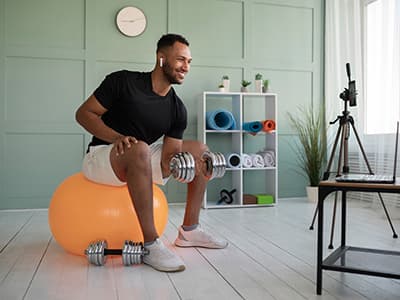 Call Us for Free Health Assessment